Icon badges and menu commands in Finder are provided by a Finder extension embedded in GitFinder. The first thing to check is if GitFinderSync extension is enabled. It should be automatically enabled the first time you launch GitFinder, but perhaps something went wrong with OS extension system. Open System Preferences > Extensions, there should be Finder Extensions section in the list to the left of the window. Reveal Finder Extensions section and in the list that appears on the right there should be GitFinderSync extension listed, like it the picture below:
Tick the checkbox on the left of extension name to enable it.
If GitFinderSync extension is enabled, but you still don't see any badges nor git menu commands while GitFinder is running, check if the extension is running as well. Open Activity Monitor application and see if the process named GitFinderSync is running. If it is not, then it wasn't started by the OS. GitFinderSync extension is started by the OS, not by GitFinder itself. In order to ensure reliable starting or the extension, GitFinder HAS to be installed in either /Applications (OS applications folder) or ~/Applications (your home applications folder). Installing GitFinder in any other location DOES NOT ensure successful start of the extension. It may work, but it also may not.
If GitFinderSync is running but you still don't see icon badges nor git menu commands, perhaps you forgot to add folders where your repositories reside into Repositories in GitFinder preferences. This has to be done due to a way Finder extensions work (and partially due to GitFinder's sandboxed nature). Go to GitFinder > Preferences… > Repositories and add your repository folders, like it the picture below: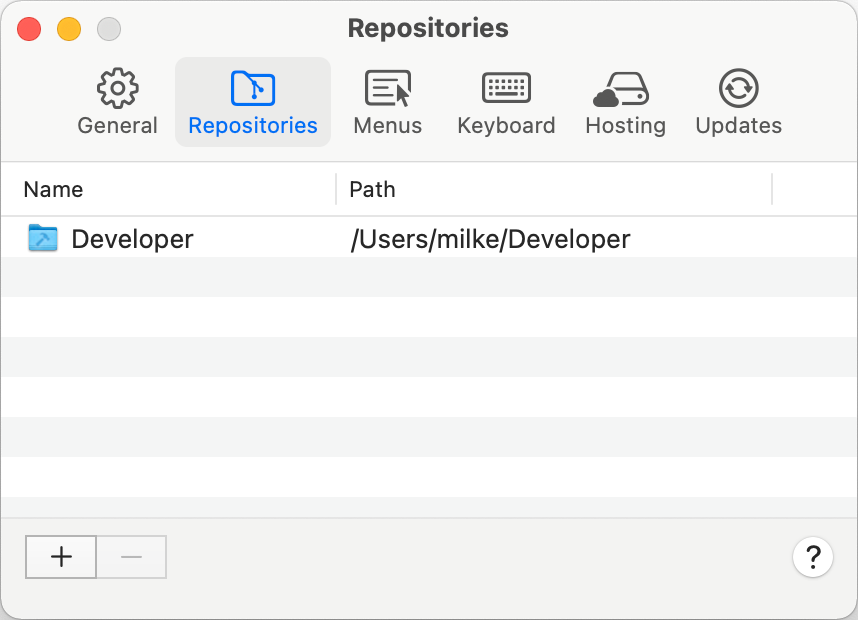 Note that you don't need to add to the list separate folder for each repository. If, for example, all your repositories are located in a single folder, you can add only that parent folder. GitFinder will look for repositories down the folder hierarchy.
If everything above is fine, and you still don't see icon badges (but you do see git menu commands), GitFinder extension may be colliding with other Finder extensions. This happens if your git repository folder is monitored by multiple Finder extensions. In such case, please make sure GitFinderSync extension is "registered first". The easiest way to ensure this is to go to System Preferences > Extensions > Finder Extensions and uncheck/unregister all extensions except GitFinderSync, like it the picture below:
Then relaunch GitFinder and make sure the icon badges are present. Then register/check back all extensions you unregistered previously. After this procedure, you should always see GitFinder icon badges, provided GitFinder is running and a particular current folder in monitored. This procedure needs to be repeated every time you get Finder extensions collision, but doing it just once should suffice. This is all due to a bit sloppy job Apple did regarding more extensions monitoring the same folders and there's nothing we can do about it.
Finally, some system folders cannot be monitored by Finder extensions. Such folders are iCloud Drive, /System and /Library (system and system library folders). If your git repository is located inside those folders (which is highly unlikely), GitFinder cannot show icon badges nor offer git menu commands.